HOLD MOUSE OVER PHOTOS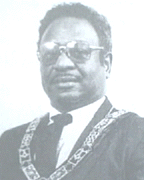 .
MARVIN D. CHAMBERS
---
The AF and AM Masons have placed on their trestle board the question whether or not they will recognize Prince Hall Masonry. This issue is being debated in their lodges and districts to be voted on at their Grand Lodge Session in April 1999. The question, where do we stand on the issue of recognition, must also be adressed by the Prince Hall Masons. DO WE WANT RECOGNITION?
KEEP IN MIND PRINCE HALL MASONS ACCEPT ALL MEN WHO ALARM OUR DOORS AND MEETS THE CRITERIA FOR MEMBERSHIP.
We should always keep in mind that the foundation of MASONRY is THE BROTHERHOOD OF MAN AND THE FATHERHOOD OF GOD.
May God continue to let his Light shine upon you and Bless you is my prayer.
(Excepts from our new MOST WORSHIPFUL GRAND MASTER MARVIN D. CHAMBERS dated September 1998 to the craft)