LO VE.
CHURCH VISITATION AND AWARD PRESENTATION
PURVIS A.M.E.ZION CHURCH-BEAUFORT, NORTH CAROLINA-USA
FEBRUARY 14, 1999


PLAQUE RECEIPTANT BRO. ABE THURMAND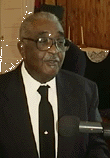 ..
PLAQUE PRESENTED TO BROTHER ABE THURMOND FOR OVER 35 YEARS OF LOYAL SERVICE TO HERO LODGE


THE OTHER TO A GREAT FRIEND TO HERO LODGE=MR. PHILIP "BUDDY" PARKER
AND ONE TO MR. PARKER'S WIFE, THERESA, FOR OUTSTANDING WORK WITH OUR YOUTH
PAST MATRON PARKER and MASTER JOHNSON



..
(Accepting on behalf of both Mr. Parker and Theresa was Past Matron Phillis Parker)


ACCEPTING AGAIN FOR THERESA PARKER