THE MOST WORSHIPFUL PRINCE HALL GRAND LODGE OF FREE AND ACCEPTED MASONS OF N. C.-USA
CONERSTONE LAYING CEREMONY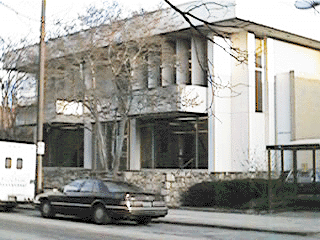 HEADQUARTER BUILDING FOR THE NORTH CAROLIN MASONIC FAMILY
LOCATED IN THE CITY OF MEDICINE-DURHAM, NORTH CAROLINA.
101 EAST MAIN STREET
PRAY FOR PEACE
---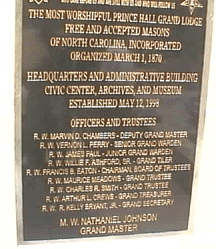 ...

.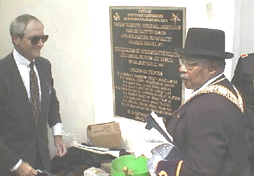 ..
---
HISTORY OF THE MOST WORSHIPFUL PRINCE HALL GRAND LODGE FREE AND ACCEPTED MASONIC OFFICESW IN DURAM, NORTH CAROLINA-USA

The Most Worshipful Prince Hall Grand Lodge Free and Accepted Masons of North Carolina, Incorporated, bought the Logan's Donut Shoppe building on East Pettigrew Street, Durham in 1953 but never occuped the premises. It was rented to Durham lodges and office space to others. The building was sold to Durham Urban Renewal Commission in 1975.

The Grand Lodge office was moved to Durham for the first time from Greensboro in December 1981. we were located on the 6th floor of the Mechanics and Farmers Bank building at 114 West Parrish Street. In 1986 we moved to 111 Orange Street Mall and in 1996 we moved to Mutual Community Savings Bank only to find ourselves bursting at the seams. In 1996 the Grand Lodge reinstated its efforts to find a permanent site for a headquarters building.

Other cities and sites were consistered during the building search before the decision was made to purchase the Duke Power property at 101 East Main Street, Durham, N. C. This facility has the requisite amount of space in which to create administrative offices, a civic auditorium configured, which is expected to centralize Prince Hall Masonic activities and generate a measurable economic impact in Durham area hostelry.

The Most Worshipful Prince Hall Grand Lodge plans to continue its growth in the region and to enhance its position as a successful Downtown Development corporate partner so that the "City of Education" might also become "City of Freemasonry."
---
"
---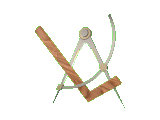 TO CORNERSTONE LAYING PAGE TWO


TO CORNERSTONE LAYING PAGE THREE


TO CORNERSTONE LAYING PAGE FOUR


TO CORNERSTONE LAYING PAGE FIVE


HONORING THE $1,000.00 MASONIC CONTRIBUTORS


OUR WHITE COUNTERPART HQ. AF&M

Questions? Inquires? Complaints? Compliments?
Contact:Web page Master
retired.postmaster@ellis-jones.com
A PRINCE HALL MASON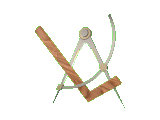 .

.

.

LOOK FOR REGULAR UPDATES AND IMPROVEMENTS 5>