(hold mouse pointer over photos for a quick comment)

JULY

ASSOCIATE OF THE MONTH

1998
---

.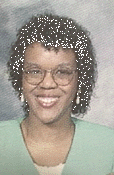 .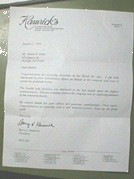 ..

.............

MS. DENISE DUNN
(see complete letter below)
---
Hold mouse pointer over photos

..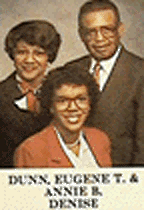 .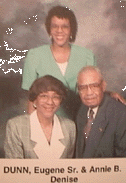 SOME OF THE DUNN FAMILY
---
---
August 17, 1998

Ms Denise R. Dunn

626 Quarry St.

Raleigh, N. C. 27601

Dear Denise

Congratulations on receiving Associate of the Month for July. I am truly impressed by your unhesitating efforts on behalf of the company and want to extend my gratitude to you.

The loyalty and devotion you displayed in the last month merit the highest commendation. You are a valued asset to the company and an important member of the corporate family.

My sincere thanks for your selfless and generous contribtions. Once again, congrtatulations on receiving such a well deserved award. Keep up the great work!

Sincerly,

Barry L. Hamrick

President
---
.
---

.. ..

---

---

BACK TO PREVIOUS PAGE

---