..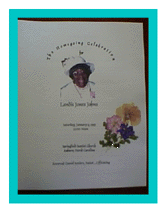 "the Lord is my light and my salvation, whom shall I fear?
The Lord is the strength of my life; of whom shall I be afraid?"....Psalms 27:1



Saturday, January 9, 1999---1200 Noon-
-SPRINGFIELD BAPTIST CHURCH
AUBURN, NORTH CAROLINA-USA
REVEREND DANIEL SANDERS, PASTOR....OFFICIATING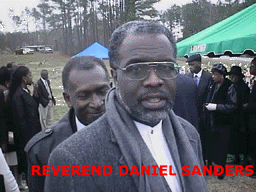 ---
THE OBITUARY

Devoted mother and loving wife of the late Eugene Johns Sr., Mrs. Landis Jones Johns was born in Wake County. North Carolina on September 24, 1909 to the late Dallie and Sadie Jones. Under their excellent guidance, Mrs Johns joined Springfield Baptist Church, where, as a faithful and dutiful member, she served God and her fellows in Christ as a Sunday school teacher, senior choir member, and member of the Firt-Aid auxiliary.

Admired by all for her caring spitit and capacity to touch the lives of many friends and families, Mrs. Johns persisted in her commitment to all as evidenced through her participation in numerous civic and organizational activities. These included participation in the NAACP, its mebership drive, campaigner for her son Jackie Johns Sr. during his work to become an Alderman with the Garner City Council, campaigner for Sheriff John Baker during his campaign in Wake County and advocate and champion for the late Dr. Martin Luther King, Jr., Mrs. Johns proudly Marched on Washington in 1964, an experience further rooting her in her commitment to progress through non-volence.

A servant to God, his flock and lover of God's good earth, Mrs Johns enjoyed planting flowers, gardening and raising a variety of farm vegetables. Sharing was a trademark of Mrs. Johns and exceeded only by her frequent words of encouragement and willingness to respond and to serve as needed. Mrs. Johns assisted with the rearing of grand childrten who fondly recall her favorite scripture taken from St. John 9:4 "I must work the works of him that sent me while it is day; the night cometh when no man can work".

Remaining to cherish fond memories of her life, her deeds and the loving lessons she sincerely taught are her children, Bessie Dunn of the home, daughter and son-in-law Mary and Raymond Brown of Raleigh, daughter Evelyn Merritt of Plainfield, New Jersey, sons and daughters-in-law Eugene Jr. and Dorothy Johns of Raleigh, William and Roberta Johns of Raleigh, Alfred and Sarah Johns of Raleigh, Jackie Sr. and Lila Johns of Garner, and Carl Johns of Raleigh, Joining them are her sister Theresa Ledbetter of Polkton, N.C., sister-in-law Louise Jones of Garner, twenty-five grandchildren, twenty-three great-grand children and a host of nieces, nephews, other relatives and friends.

Mrs Johns went home to be with Jesus on January 5, 1999. She departed from her home at 6215 Battlebridge Road, Raleigh, North Carolina.

Thank you God for your loving embrace and for giving her a graceful eternal rest. We loved her, absolute, but you loved her best. And so it is. Amen.



---

TO FIRST PAGE OF ALL CHOICES
Questions? Inquiries? Complaints? Compliments?