THE GRANDMASTER EXPRESSED HIS APPROVAL OF THE MASONIC BURIAL OF BROTHER MOORE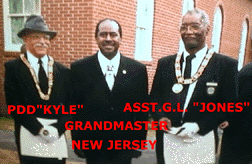 .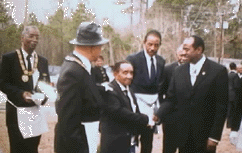 .


LEANDER MOORE
-A LIFE THAT WAS LIVED-
A TIME TO BE BORN: Leander Moore was born on May 12, 1923 into the family of the late Elijah and Olive Woods Moore in Havelock, North Carolina.
A TIME TO GROW: Lee, as he was fondly called, received his education at Melvin School, Havelock, North Carolina and West Street School, New Bern, North Carolina. He served in the United States Army and was employed at Cherry Point for about thirty-seven years.
A TIME TO LOVE:Lee was united in Holy Matrimony to Kathleen Toon on August 24, 1942.
A TIME TO SERVE:Lee, having been converted and baptized, was a devoted Christian. He was a member of ther Carteret-Craven Brotherhood Union Choir for thirty-six years, seving as president for thirty-two years. He also sang in the Golden Leaf Quartet for many years. He was a member of Hyman Chapel Church Senior Choir, a trustee, class leader and church custodian.

A TIME TO PLAY:
Lee was a member of the Masonic Lodge # 803.
He also enjoyed hunting.
A TIME TO DIE:On Friday, February 12, 1999, the most precious Almighty God sent the Angel of Peace into his vineyard to receive his faithful son. Calling out the name "Lee, a loving husband, father, grandfather, godfather, brother, uncle and friend, your work has been done, now come home, my child, and rest."
A TIME TO BE REMEMBERED:Leander's memory will be cherished by a loving and devoted wife, Kathleen Moore of the home: one daughter, Kadean Moore of the home; one son, William Moore of Havelock, North Carolina; two granddaughters, Aravia Moore of the home and Aaliyayh Moore of Havelock; two sisters, Mildred Greene (Arthur) of New Bern, N. C.; Katie Nelson (Fred) of New Bern, N. C. and Lillian Green of Havelock, N. C.; one brother-in-law, Albert Toon (Melvina) of Havelock, N. C.; numerous godchildren; a devoted buddy, Mr. Pete Carter of Havelock, N. C.; a host of nieces, nephews, cousins and friends.
Questions? Inquiries? Complaints? Compliments?