!
LOCAL BITS OF PRINCE HALL NEWS
---

PRINCE HALL MASONRY IS ALIVE AND WELL IN NORTH CAROLINA

---
Miss North Carolina State Grand Assembly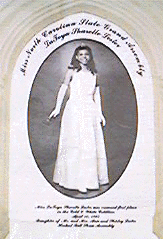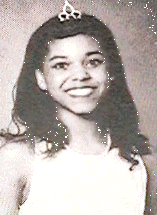 LaToya Sharelle Lester
This young beauty was crowned first place in the Gold & White Cotillion

April 10,1997

Daughter of Mr. and Mrs. Avie and Shirley Lester

Herbert Bell Shaw Assembly
---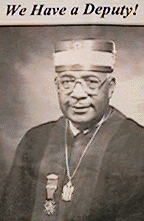 ...

...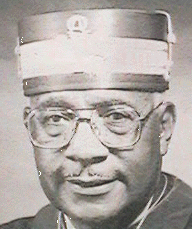 Congratulations to our Illustrious William A. Marsh, Jr., 33 degree shiner,SGIG
who was coronated October 12,1997 and named
DEPUTY OF THE ORIENT OF NORTH CAROLINA
---
Two other members of the North Carolina contingent were coronated to "EMERITUS STATUS" -- Special Deputy Grand Master Elmer LeGrande and Most Worshipful Grand Master Nathaniel Johnson. Past Grand Master and SGIG Active William C. Parker was present. PGM and SGIG Emeritus Clark S. Brown was absent. These men proudly represent the North Carolina contribution to the Sovereign Grand Inspectors General, Southern Jurisdiction.

(Submitted by GIG Jackie Robinson-Durham Consistory #218-copied by webmaster fr pg 2-N. C. Scottish Rite Herald - Tribune-December, 1997)
---
---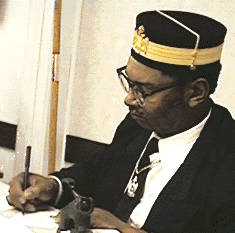 KSA Fraizer earning his pay by doing his official duties. As noted by the bands around his crown, he is a Past Commander-in-Chief, Newbern Consistory #30,Prince Hall. Located In Historic, Newbern, North Carolina, USA.
---
LOOK

>

PRINCE HALL MASONRY IS ALIVE AND WELL IN NORTH CAROLINA

---
BACK TO MASONIC HOME PAGE OF CHOICES
Questions? Inquiries? Complaints? Compliments?
Contact:Web page Master
postmaster@ellis-jones.com
A PRINCE HALL MASON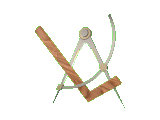 .

.

.

LOOK FOR REGULAR UPDATES AND IMPROVEMENTS 5>