THANKS TO DISTRICT DEPUTY MARY JONES # 7 THE BEST TO DATE!
LOCAL BITS OF PRINCE HALL NEWS
---

REVEREND W.C. COLES,-Worthy Patron- invites all to the Town of Maysville, White Oak Missionary Baptist Church. Reverend Coles have received his Doctorate degree from Shaw University, Raleigh, North Carolina-USA.--1998
---
---
---
JONES' COUNTY "TEACHER OF THE YEAR" 19972> YOU DONE THE ORDER OF THE EASTERN STAR PROUD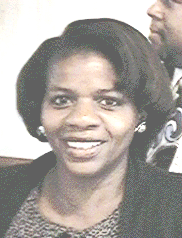 Eastern Star sister Washington Regina Washington is Worthy Matron of Jupiter Chapter #52 Order of Eastern Star, Pollocksville, North Carolina.

---
---
---
THE SEVENTH DISTRICT LOVES YOU LARRY WADDELL ALSTON
HAIL TO THE CHIEF-BROTHER LARRY WADDELL ALSTON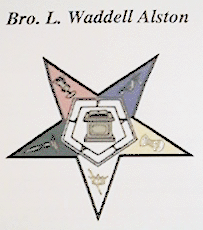 ..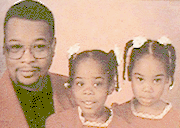 Larry and his two grandaughters, Aerill Neko and Ashlie Monique
IT HAS BEEN SAID, IF LOVE IS THE SOUL OF MANKIND THAN LARRY HAS SOUL.
Brother Larry Alston, like Adah, is very faithful to all obligations; like RUTH, is constant in his devotion to the Order of the Eastern Star; like Esther, stands for what he believes is right; like Martha, has an undying faith in a supreme Being; and like Electa, is a devoted carekeeper which represents love.
Larry's untiring commitment to his Community leaves a trial of compassionm devotion and respect with the assurance that "He can do all things through Christ which strengthens him." Larry also volunteers at the North Carolina Correctional Center.
---
---

DISTRICT DEPUTY MARY JONES- 7TH DISTRICT- ORDER OF THE EASTERN STARS
---
---
---