---
---
A MAN AMONG MEN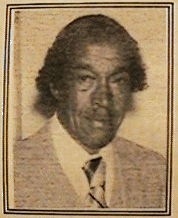 Mr. Eugene "Gene" Howell, Sr.
December 28,1901-----------January 5,1998
Eugene Madison Howell,97, died January 5, 1998. Mr Howell came to Shaw University as the maintenance man, for he was the only caretaker at the time of his employment in 1927. But more than that, he also worked as the fireman in the heating plant and as night watchman, all for twenty cents an hour. Because he was a man of faith, he was able to enroll three daughters at Shaw and to be present at their graduation. Many of the trees and shrubbery on Shaw's campus stand as a monument to him, for it was his hands that planted and cultivated them. Mr Howell's tenure bergan during the days of the last Caucasian President at Shaw University and continued through the tenure of eight African-Americans who have served as Presidents since 1931.
More important than the years served was his devotion to Shaw,for all who knew Eugene Howell, Mr Howell, "Uncle Gene", his life was Shaw University. He came to Shaw every day after his "unofficial" retirement in 1995, every day. Mr Howell when asked about his continuing to visit the campus would often say,"Life would have no meaning if I could not come to Shaw."
The apex of the Howell/Shaw relationship came during the institution's 125th Anniversary Celebration, November 16, 1990. During this celebration, Mr. Howell was honored and made an Honorary Alummus of Shaw with all the rights and privileges perttainimg thereto. The certificate was inscribed thus: "Eugene Madison Howell, showing the greatest loyalty possible during the longesty continuous employmnent recorded in the history of Shaw University and having this institution's welfare interwoven into the very fabric of his being is recommended by the faculty for the status of HONORARY ALUMNUS."
Mr. Howell was a life-long member of the Martin Street Baptist Church in Raleigh, N. C.
---
(Web Master's note-- For comparison, I retiried in 1961 from The U.S. Postal Service,exactly thirty years. I love the Postal Service and had at the time of retirement 2,600 sick leave hours. I believe Mr. Howell's love for Shaw, way surpass mine even after retiring as Postmaster.I attended Shaw in '50-'51 on a football scholarship. Mr. Howell was at the time of his death, my Raleigh neighbor, and lived less than 300 yards from me. He was one of the finest men, Black or White or any color or race, anyone could ever call a friend or neighbor. We (the neighbors) will all cherish and love his memory- Ellis Jones)
---
---
..........................................................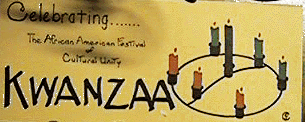 ........................................
CELEBRATING KWANZAA
DECEMBER 26TH---JANUARY 1ST
(For give me, I just hate to take the following piece of work out.....Web Master Jones)
It's the African American holiday that intertwines African traditions with American customs. The seven care principles of Kwanzaa are: Unity, self-determination, collective work and responsibility, cooperative economics, purpose, creativity, and faith. The seven symbols, esxpressed in Swahili, are: Mazzo (fruits, vegetable, and nuts), mkeka (place mat), kinara (candleholder), vibunze (ear of corn), zawadi (gifts), kikombe cha umoja (communal cup of unity), and mishumba saba (seven candles). Kwanzaa helps peoples of African heritage apply the universal principles: Grow and change, live and love, create and build, honor and respect, to their daily lives. In her book The Complete Kwanza, Dorothy Winbush Riley says the celebration units were designed to unite families, reaffirming that we live in reciprocal dependence while seeking dignity, justice and equality. This modern holiday allows Africa's children, scattered on every continent, a way to preserve their heritage and to enjoy prosperity by using ancient wisdom to solve today's problems. On each day of the observance, four elements are present; Welcome and greetings; observance and ritual; eating and entertainment; and farewell. Greeters include children.
Copied from Carteret/Craven newletter-Dec'97
---
---
A LITTLE STORY This is a little story about four people named Everybody, Somebody, Anybody and Nobody. There was an important job to be done and Everybody was sure that Somebody would do it. Anybody could have done it, but Nobody did it. Somebody got angry about that because it was Everybody's job. Everybody thought Anybody could do it, but Nobody realized that Everybody wouldn't do it. It ended up that Everybody blamed Somebody when Nobody did what Anybody could have done.
---
A SIMPLE GESTURE
Everybody can be great...because anybody can serve. You don't have to have a college degree to serve. You don't have to make your subject and verb agree to serve. You only need a heart full of grace. A soul generated by love.
............Martin Luther King
---
At your church conferences, remember, try not to lose your head, YOUR BRAINS should be IN IT !!!
---
BACK TO TOP OF THIS PAGE
---
BACK TO HOME PAGE

TO THE MORE CHOICES PAGE

---
Questions? Inquires? Complaints? Compliments?
Contact:Web page Master
retired.postmaster@ellis-jones.com
A PRINCE HALL MASON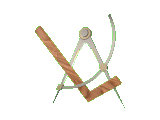 .

.

.

LOOK FOR REGULAR UPDATES AND IMPROVEMENTS 5>