THE WINNERS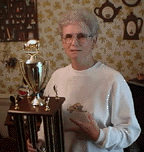 "DOT"
(Above photo "14th Annual Carolina BBQ Championship Cook-Off **1st Place** Showmanship**September 25, 1998")
Dot is a winner in her own rights. She said, "The judges were Elvis Pressley, Barney Fike, etc."
She named some more folks, but at my age, I forgot them....Ellis....
Charlie said, "She thinks she owns all the trucks running on the road with 'DOT' (Dept. of Transportation) on the side".
Charlie told me the fellows asked him how he liked it being retired (40 yrs). His answer, "Havent't had a bad day yet"
I guess not having won all the trophies I saw. He don't need a room for them, he need a small house!....Ellis....
He also said the fellows asked him if he missed work, He said, "Only fifteen minutes, the first day".
I guess I am one up on him on this one,I needed five seconds for me to get out the front door!...Ellis....

..

..

..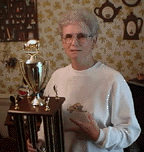 ..

.