---
.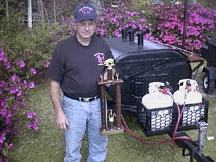 This trophy was won by Charlie in the
-1999- PIG COOKING CONTEST held in Newport, N. C--April 10th.
This is the fourth time he has won THRID PLACE.
I don't know what is
wrong with LEE, he placed 27th.
Lee still, after all these years will not do as POP say "DO".
.

COOK LIKE POP LEE !
---