JAMES HILTON (SMITTY) SMITH JUNIOR
....

DUTY TO GOD
DUTY TO COUNTRY
DUTY TO OTHERS
September 16, 1998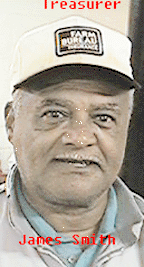 TREASURER FROM 1967-SEPTEMBER 13, 1998
---
-THE OBITUARY-

JAMES HILTON SMITH JUNIOR was born July 13, 1928 in Raleigh, North Carolina to the late James and Ovella Smith. He departed this life September 13 1998 at Carteret General Hospital, Morehead City, North Carolina.

He leaves to mourn his loss: his loving wife, Helen Fulford Smith and son James hilton Smith 111; niece, Kathy Bugg and her sons, Bill and Andre, Romaine and Joel Small and son Chip; other nieces and nephews, Gwendolyn and David Hollingsworth, Yvonne and donald Owens, Millicent and Travis McLean, Sheila and Todd Curthbertson, Ronald Lemonzs, Frederick Sapp, Douglas Fulford and Kenneth Fulford; sisters-in-law, Marian Thurman and Milta Fulford; brothers-in-law, Abe Thurman and Ulrich Hester; a host of other relatives and friends.

James was a graduate of Queen Street High of Beaufort, NC and A&T College of Greensboro, NC. Upon graduating from college he entered the armed services as a 2nd Lieutenant and advanced to Captain. Upon leaving the service he became an Industrial Arts Teacher at Queen Street High School in Beaufort, N. C. He completed his teaching career at East Carteret High School of Beaufort in 1986.

Following retirement he became involved in community activities. His pride and joy was membership in the Hero Lodge No. 248, where he held the office of treasurer. He was an active member and recruiter of members for the Carteret County Chapter of the NAACP, a member of the American Legion Post 99, N. C. Trade and Industrial Organization, Carteret County Retired Teachers Association, Beaufort Housing Authority Board of Directors, A&T State University Alumni Association, a charter member of Crime Stoppers, a member of the 82nd Airborne Division Association and a former member of the Newport Developmental Center.

"Smitty", as he was AFFECTIONATELY CALLED, WAS WELL-KNOWN FOR HIS OUTGOING PERSONALITY, HIS KNOWLEDGE OF COMMUNITY AFFAIRS AND HIS WILLINGNESS TO HELP OTHERS. I believe he lived by the creed - it isn't important how long you live, but how you use the time you live...It's what you do for others that counts. MMMMMMMMMMMMMMMMMMMMMMMMMMMMMMMMMMMMMMMMMMMMMMMMMMMMMMMMMMMMMMMMMMMMMMMMMMMMMMMMMMMMMMMMMMMMMMMMMWWWWWWWWWWWWWWWWWWWWWWWWWWWWWWWWWWWWWWWWWWWWWWWWWWWWWWWWWWWWWWWWWWWWWWWWWWWWWWWWWWWWWWWWWWWWWWWWW

HERO LODGE THE BRGINNING

HERO LODGE PAGE 1 MEMBERS

HERO PAGE 2 MEMBER-BROTHER J.C. STANLEY (DECEASED)

Questions? Inquiries? Complaints? Compliments?