HERO LODGE#248-PRINCE HALL MASONRY-WORLDWIDE
BEAUFORT, NORTH CAROLINA, USA
---
IN MEMORIAL

-BRO.J.C. STANLEY-

..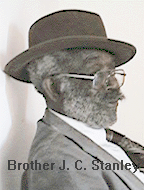 1911----February 1998
---
M

embers of the Ancient Arabic Order Nobles of the Mystic Shrine for North America are members of the Masonic Order and adhere to the principles of Freemasonry - brotherly love, relief and truth. Freemasonry dates back hundreds of years to when stone masons and other craftsmen on building projects gathered in shelter houses or lodges. Through the years, these gatherings changed in many ways until formal Masonic lodges emerged, with members bound together not by trade, but by there own wishes to be fraternal brothers.

There is no higher degree in Freemasonry than that of Master Mason (The Third Degree).

However, for those men who would like to receive additional instruction and explanation of the allegory and symbolism learned in the Masonic Lodge, the Scottish Rite of York Rite bodies elaborate on the basic tenants of Freemasonry. A Master Mason must have achived the 32nd degree in the Scottish Rite or the Knight's Templar degree in the York Rite before he can petition to become a Noble of the Mystic Shrine (except in Mexico and the Philippines). Shriners are distinguished by an enjoyment of life in the interest of philanthropy. The approximately 750,000 member organization has a buoyant philosophy which has been expressed as " Pleasure without intemperance, hospitality without rudeness and jollity without coarseness."
---
TRUST IN GOD
---
HISTORY
OF
HERO LODGE #248
BEAUFORT, N.C. 28516-USA Hero Lodge #248 received its charter on December 9, 1908. It developed from a small Masonic area to a new site on highway 70 in Beaufort. Most of its original members were menhaden fishermen. During the main fishing season which was between the months of April and November, no meetings were held because the men were away fishing. The fishing was done in the states of Florida, Mississippi Louisiana, Delaware and New Jersey, Meetings commenced with the closing of the main fishing season.
Carteret county is on the North Carolina seacoast. At one time fishing was its main industry along with the pulp wood business. At present it depends largely on tourism. Its per capita income was increased somewhat, not because of tourism or industry, but by the influx of retired persons from the states further north.
A complete listing of worshipful masters was not obtainable at the present time, but a partial list follows:

Bro. Fred Williams--12/9/1908            Bro. Clifton Windley---? -'73
Bro. Samuel Windsor                      Bro. Charlie Henderson '73-'78
Bro. George Sparrow                      Bro. James Nolen '78-'81
Bro. William Vann                        Bro. Ellis Jones '81-'86  
Bro. Frank Henry                         Bro. Mitchel Budget '86-'88
Bro. Alex Henry                          Bro. Ellis Jones '88-'90
Bro. Randolph Johnson	                 Bro. Booker Joyner '90-'92
Bro. Guy Copes                           Bro. Nesby Stanley '92-'98
                                         Bro. Sylvester Johnson '98-

Brother Jules Jordan was a very important person during the latter years of the lodge by influencing members to stay in the lodge, even by paying their dues. He was the secretary at the time, but also assumed duties of the treasurer. At the passing of Bro. Jordan, the secretary position was assumed by Bro. Abe Thurman. The position of treasurer has been the domain of Bro. James Milton Smith, Jr., since 1967. He is still the treasurer and vocal advocate of Hero Lodge #248.

The Lodge sponsors a very active knights of Pythagoras group which has recently been chartered. Also, the Affiliated Order of the Eastern Star has a similar active gleaners group.

The number of active members at the present time is 33.

Beaufort is the third oldest town in north Carolina, and the recent history of the members of this lodge follows:

FIRST BLACK PRINCIPAL - Randolph Johnson, Deceased

FIRST BLACK TOWN COMMISSIONER - Abe Thurman, 1991 - PRESENT

FIRST BLACK POLICE CHIEF - Charles McDonald, 1992 - PRESENT

FIRST BLACK HIRED FIREMAN - Carlton Davis

FIRST BLACK PERSONAL BANKER - Bryant Henry (Wachovia-Morehead City, N.C.) 1990 - PRESENT

FIRST BLACK 33 DEGREE MASON - Charlie Henderson

FIRST BLACK POSTMASTER - Ellis Jones (Atlantic Beach, N. C.)

FIRST BLACK GRAND LODGE OFFICER - Ellis Jones-Asst. Grand Lecture

                                           Present Worshipful Master


                                           Nesby Stanley



                                           Secretary


                                           Abe Thurman
AUG.30,1994 (Submitted to the Historical Committee of the Grand Lodge to be enclosed in the proposed
History Book}

---
HERO LODGE THE BRGINNING
HERO PAGE 2 MEMBER-BROTHER J. C. STANLEY (DECEASED)
BACK TO HOME PAGE

TO THE MORE CHOICES PAGE

Questions? Inquires? Complaints? Compliments?

Contact:Web page Master

postmaster@ellis-jones.com

A PRINCE HALL MASON

...

LOOK FOR REGULAR UPDATES AND IMPROVEMENTS 5>

---