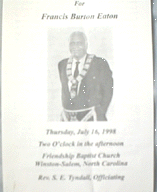 .....

......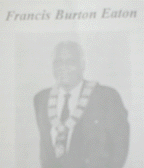 ---
.....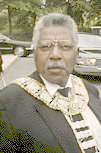 ....

THE JUNIOR PAST GRAND MASTER OF NORTH CAROLINA

BROTHER NATHANIEL JOHNSON
---
---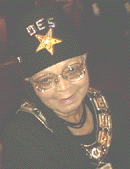 ............................

..

THE JUNIOR PAST GRAND WORTHY MATRON ---THE JUNIOR PAST GRAND PATRON OF NORTH CAROLINA

SISTER OLINZIE D. JOHNSON -----------BROTHER JAMES MUNGO
---
OBITUARY

Mr. Francis B. Eaton, 1951 Kentucky Ave., passed away Sunday night, July 12, 1998 at Forsyth Medical Center. He was a native of Mocksville, N. C. and a retired employee of AT & T. Mr Eaton was a member of Friendship Baptist Church, where he served as Chairman of the Deacon Board, member of Congregational Choir and Sunday School. He was a member of Olympic Lodge #795 P.H.A., where he was a Past Master, Holy Royal Arch Masons #65; Order of Knight Templar #7 and a member of James H. Young Chapter #592 O.E.S., P.H.A., where he was a Past Patron. Brother Eaton was Chairman of the Trustee Board of the Most Worship Grand Lodge of N. C. and Past District Deputy Grand Master of the 30th District. Brother Eaton was Past Grand Worthy Patron of the Grand Chapter Order of Eastern Star of N. C. He was a Funeral Attendant for Gilmore Funeral Home for 15 years and was a veteran of the U.S.Army.

Survivorsinclufontde; his wife, Mrs. Martha W. Eaton of the home; one daughter, Ms. Barbara Clemmons of Winston-Salem; four grandchildren, six great-grandchildren, one brother, Robert (Betty) Foster of Mocksville, N. C.; two sisters-in-law, Helen Eatonts, Thelma Cain of Farmington, of Winston-Salem and Lee Golden of Cincinnati, Ohio; two aunts, Thelma Cain of Farmington, N. C. and Mattie Clark of Winston-Salem; one devoted friend, Warren Fulp of Winston-Salem. Several other relatives and friends.

COME UNTO ME, ALL YE THAT LABOUR AND ARE HEAVY LADEN, AND I WILL GIVE YOU REST.................St. Matt. 11:28
---

.....

......


.....

......

---
---