STEVE KYLE # 7 FIRST DISTRICT MEETING 0F 1998
LOCAL BITS OF PRINCE HALL NEWS
NORTH CAROLINA, USA
---
---
AT THE MEETING

.

BRAND NEW DISTRICT DEPUTY FOR DISTRICT SIX--BRO. LAWRENCE LEWIS----(LEFT) TRAVELING MEMEBER FROM DISTRICT SIX-BRO. BUTLER
---
AT THE MEETING

.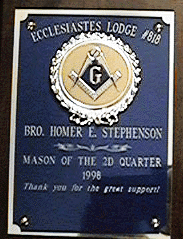 .

PLAQUE ADWARDED TO BROTHER STEPHENSON FOR BEING AN EXCELENT MASON AT ALL MASONIC AFFAIRS OF HIS LODGE (#818)
PLAQUE READS "ECCLESIASTES LODGE #818--BRO. HOMER E STEPHENSON--MASON OF THE QUARTER
1998--THANKS YOU FOR THE GREAT SUPPORT---------(given by his Worshipful Master--presented by DD Kyle)
---
---
---
DISTRICT 7-FIRST MEETING OF 1998 (MARCH)
SECOND PAGE DISTRICT MEET NEWS
FOURTH PAGE DISTRICT MEET NEWS
Questions? Inquires? Complaints? Compliments?
Contact:Web page Master
retired.postmaster@ellis-jones.com
A PRINCE HALL MASON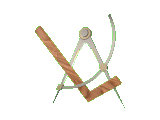 .

.

.

LOOK FOR REGULAR UPDATES AND IMPROVEMENTS 5>
---